Allah 'Mariam' Samardak
Board Member
Amin Rafiq
Executive Director
Karima Berrada
Operations Manager
Sh. Mustafa Umar
Senior Religious
Director
Shaykh Mohamed
Osman
Resident Qari, Qur'an
Institute
Hasna El-Nounou
Youth Program
Director
Mohy Abdelgany
Community Assistance
Program Lead
Mustafa Umar completed a B.S. in Information and Computer Science from UC Irvine, a B.A. in Theology & Islamic Law from the European Institute of Islamic Sciences in France, and an M.A. in Islamic Studies from the University of Gloucestershire in the UK. He also studied the Islamic sciences for a year at Nadwatul ʿUlamā' in Lucknow, India and spent another year studying in Cairo, Egypt. Mustafa later completed the traditional iftaa program at Darul Ifta Birmingham, UK, granting him the traditional title of 'Mufti', or specialist in Islamic Law. He has authored several books, served the Muslim community of Southern California as a scholar and activist for two decades, and is currently the president of California Islamic University, the Religious Director at the Islamic Center of Irvine, and an executive member of the Fiqh Council of North America.
Fun Fact: Sh. Mustafa enjoys studying martial arts.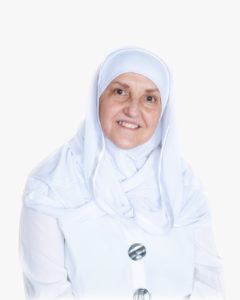 Dr. Sh. Haifaa Younis is an American Board Certified Obstetrician and Gynecologist with roots from Iraq. She is the founder and Chairman at Jannah Institute, and a resident scholar at Jannah institute and the Islamic Center of Irvine (ICOI). Dr. Younis graduated from the Mecca Institute of Islamic Studies and Al-Huda Qur'an Memorization School (Jeddah, Saudi Arabia) where she completed the memorization of the Qur'an. Currently, she lives and works in the United States, and teaches various Islamic studies courses with a focus on purification of the heart (Tazkiyah).
Alla 'Mariam' Samardak is a graduate of Al Mishkah University with a Bachelor's degree in Islamic Studies. She is currently pursuing her second degree, in Biomedical Engineering. Meanwhile she is an Islamic Studies teacher. Passionate about educating the younger generation.
Mariam had been an active member at ICOI since 2014, served on multiple committees and events. Her goal is to make ICOI a  welcoming place for people with different backgrounds and serve the community to the best of her abilities.
Atiya Akbar has been a part of the Irvine Muslim community for over 25 years. She has a Masters Degree in Computer Science and serves as the CFO for a manufacturing company co-founded by her. She currently serves as a President of Home International (a non-profit). Her desire is to help the community and touch as many lives as she can. She has volunteered her time on many occasions with organizations like ICNA, CAIR, IRUSA, and South County Outreach. As a mother of three daughters, she is passionate about the role of youth and women in our community. She feels strongly about increasing Muslim representation in the Interfaith to offer a more positive image of Muslims. Atiya loves birds and has a green cheek conure named "Zazu" as a pet bird.
Her vision is to see ICOI be the best it can be in terms of relevance and quality of service it provides.
Omar Mahmood has been an active member with ICOI young professionals group and an attending member of ICOI for 4 years. He has taken Shura Council's young inspirers as well to prepare for the responsibilities that are involved with the masjid board.
He hopes to bring a greater push for creating a gathering place for the community and growth of the masjid in a post-COVID environment.
As an engineer, Omar works daily on improving processes and increasing efficiency to ensure that projects meet clients' expectation. He hopes to use this skillset to help ICOI with strategic planning as well as their day-to-day operations.
Amin Rafiq was born in St. Petersburg, FL in 1973. He moved out to California in 2013 and has been a member of the ICOI community since 2014. Amin is happily married with six children enjoys motorcycles and RV trips. He takes great pride in being of service to the Muslims and aims to help ICOI become the best community it can be.
Karima Berrada: Born and raised in Morocco, Karima Berrada moved to California in 2013 with her husband and son and joined the Islamic Center of Irvine in June 2017. She is a certified Administrative Assistant, has a BA in Computer Science and Business Management, speaks three languages, and is currently pursuing a second degree in Bioinformatics. Karima is passionate about education, enjoys helping others and is proud to support ICOI's mission to build a united Muslim community.